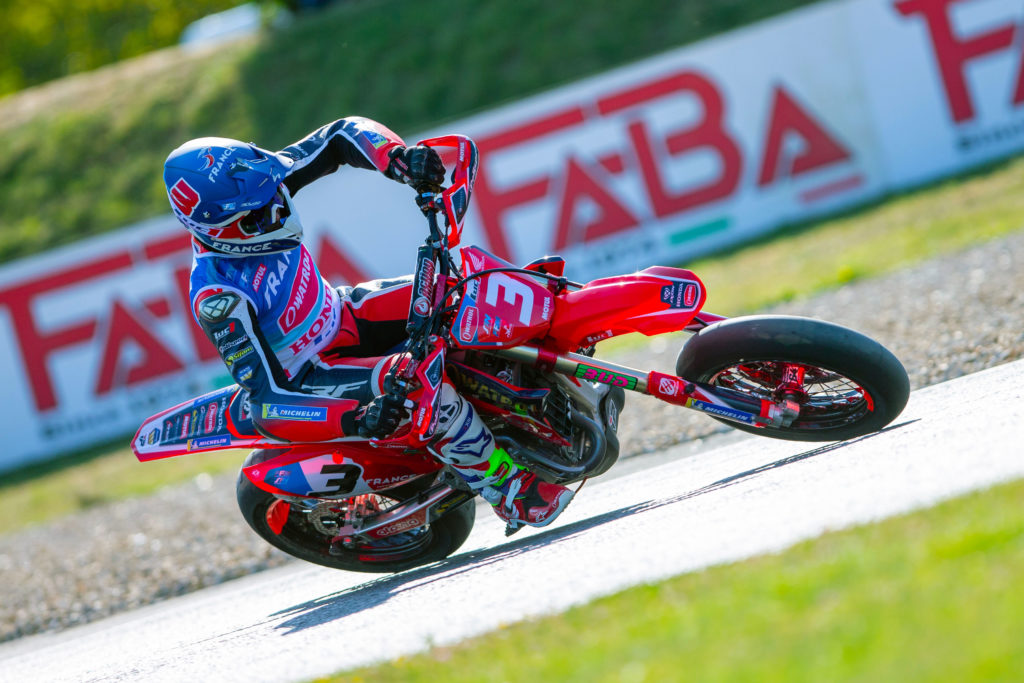 Tremblay-en-France (France) 21 September 2019 – In warm and sunny conditions, the 2019 edition of the FIM Supermoto of Nations started today in Tremblay-en-France on Circuit Carole near Paris. On this Saturday the free and time practices were held together with the qualification races. After being the host in 2017, the Olympics of Supermoto are back in the country of multiple winning nation France. Circuit Carole is one of the best equipped venues in Europe and has perfect conditions for all Nations and their riders. Due to the perfect weather conditions the Supermoto fans were already early present and enjoyed some great racing on the ultra-fast track. Team France dominated the qualifying races and took pole-position for the races tomorrow.
QUALIFYING RACE GROUP 1
The first qualifying race of the day in France, was the race for the group 1 riders. At start it was Team France rider, European and World Champion Thomas Chareyre who took the hole shot into the first left tight corner of Circuit Carole followed by Team Spain rider Jaume Gaya and Team France junior rider Nicolas Cousin. In fourth place it was Team German rider Jannik Hintz who was in his turn followed by Team Czech Republic rider Erik Provaznik and Team Italy rider Luca d'Addato. Thomas Charyere created a gap towards the competition from the beginning of the race with fast lap times. His fellow countryman from the Junior team of France, Nicolas Cousin didn't waste any time as well and passed Jaume Gaya for second place in the race and started his chase to Chareyre but Cousin soon had to settle for second as Chareyre was in full control of the race leaving to others no chance at all. Spanish junior rider Jaume Gaya had a very strong race, but had to fight with Italian rider Luca d'Addato who took fourth place after German rider Hintz made a small mistake and had to restart the race from eight place. D'Addato tried all he could to get closer to Gaya as well but for him the race was too short to pass and the Italian rider had to watch out for Erik Provaznik who was all over him. Without any problems Thomas Chareyre took the victory for Team France in this first race in front of Nicolas Cousin for Team France junior. Third place was Team Spain junior rider Jaume Gaya who completed the top three. Fourth place was full of tension until the finish line as Austrian rider Andreas Buschberger had a strong last part of the race. Buschberger passed in Czech Republic rider in the last laps and took fifth place behind Team Italy rider Luca d'Addato. Erik Provaznik completed the top six for Team Czech Republic.
QUALIFYING RACE GROUP 1 (TOP TEN): 1. CHAREYRE Thomas (FRA, TM) 12 laps in 20:23.605; 2. COUSIN Nicolas (FRA, Honda) +06.390; 3. GAYA Jaume (ESP, Suzuki) +09.986; 4. D'ADDATO Luca (ITA, Honda) +12.053; 5. BUSCHBERGER Andreas (AUT, Husqvarna) +16.278; 6. PROVAZNIK Erik (CZE, Yamaha) +17.215; 7. BARTSCHI Yannick (SUI, Honda) +17.388; 8. HINTZ Jannik (GER, Husqvarna) +30.071; 9. HAENGGELI Julien (SUI, Yamaha) +45.625; 10. CARDUS Ferran (ESP, Suzuki) +50.293
QUALIFYING RACE GROUP 2
At the start of the second qualifying race for the group 2 riders, it was Team France rider Laurent Fath who was fastest into the first left corner of the race track in Tremblay-en-France followed by Italian rider Diego Monticelli and French junior rider Emerick Bunod. Fourth position was for Czech Republic rider Milan Sitniansky. Team Germany Steffen Albrecht had also a good start and was in fifth place in the first lap right in front of Swiss rider Randy Götzl. In the lead Fath tried to get away from the rest of the field like Chareyre in the first race but the young Frenchman had to deal with strong competition. Monticelli, Bunod, Sitnianky and Albrecht. These five riders were the strongest of the field and soon they created a big gap towards the rest. With Fath still in the lead, Sitniansky started pushing towards Bunod and after three laps the Czech rider was able to pass Bunod at the end of the long straight taking third position in the race. Sitniansky did not rest and kept his speed high and soon he was at the back of the Team Italy rider Monticelli. Behind the top three, Steffen Albrecht was getting closer to Emerick Bunod but the German rider had to slow down after a mistake, giving Bunod room to breathe for the rest of the race. With two laps to go Sitniansky did an ultimate pass on Monticelli and took over second place from the Italian rider. Leader was still Laurent Fath, but the young Frenchman had to fight hard for his win as Sitniansky closed in rapidly on him. Fath however kept his head cool and maybe no mistakes in the last minutes of the race and finished in first place, the second victory for France, 2.359 seconds in front of Sitnianky. Fourth place was from another French rider, this time Junior rider Emerick Bunod who kept Steffen Albrecht from Team Germany on a safe distance making the German rider fifth in the second qualifying race. With only one race to go, the battle for the pole position is almost won by France.
QUALIFYING RACE GROUP 2 (TOP TEN): 1. FATH Laurent (FRA, KTM) 12 laps in 20:16.068; 2. SITNIANSKY Milan (CZE, Honda) +02.359; 3. MONTICELLI Diego (ITA, TM) +05.378; 4. BUNOD Emerick (FRA, Honda) +19.088; 5. ALBRECHT Steffen (GER, Husqvarna) +29.564; 6. STEHRER Manuel (AUT, Husqvarna) +51.430; 7. GOTZL Randy (SUI, TM) +53.852; 8. BLAKEMAN Richard (GBR, KTM) +54.611; 9. FIORENTINO Romeo (BEL, Husqvarna) +54.879; 10. LORENTE Angel (ESP, Suzuki) +59.541
QUALIFYING RACE GROUP 3
Last qualifying race of the Saturday in Paris was for the riders of group three. With two wins for Team France, all the other countries was eager to stop them from winning this race as well. At the start it was again a French rider who took the hole shot. Sylvain Bidart was the first rider to enter the first corner, directly followed Team Italy rider Elia Sammartin, Team France junior Axel Marie-Luce and Belgium junior rider Romain Kaivers who had a excellent Saturday so far. Fifth place was for German rider Jan Deitenbach who was in his turn followed by Czech Republic rider Petr Vorlicek. Race three was almost the same as the other two races with a Team France rider getting away from the rest of the field making it clear who are the biggest favourites for the victory in 2019. Sylvain Bidart quickly managed to create a gap to second riders Elia Sammartin from Italy. Sammartin did everything he could but the speed from the French Honda was just to fast for him. Sammartin in the meantime had to deal with Axel Marie-Luce who pushed his Yamaha to the limit on the fast track of Carole. The battle for fourth was still between Kaivers, Deitenbach and Vorlicek. Kaivers got a small technical problem and had to slow speed down giving his opponents to close in on him. Vorlicek first passed Deitenbach, after a mistake of the German rider and then started his attack on Kaivers. With three laps to give the experienced Czech rider was able to place his final attack and took over fourth place from the young Belgium rider. In front nothing changed and Sylvain Bidart took the third French victory of today in Paris. Second place for Italian rider Elia Sammartin, 3.073 second him Bidart. The top three was completed by Axel Marie-Luce from Team France junior. Czech Republic and Belgium completed the top five with Vorlicek and Kaivers.
With three wins during the qualifying races Team France takes the victory on Saturday and the pole position for tomorrow's races. Second place is also for France, the Junior team. Third place and last place on the start grid is for Team Italy.
QUALIFYING RACE GROUP 3 (TOP TEN): 1. BIDART Sylvain (FRA, Honda) 12 laps in 20:23.500; 2. SAMMARTIN Elia (ITA, Honda) +03.073; 3. MARIE LUCE Axel (FRA, Yamaha) +04.873; 4. VORLICEK Petr (CZE, Suzuki) +08.672; 5. DEITENBACH Jan (GER, Husqvarna) +14.090; 6. GIMENEZ David (ESP, TM) +31.782; 7. DECAIGNY Nicolas (BEL, Husqvarna) +32.171; 8. BAUMGARTNER Marcel (SUI, Husqvarna) +32.575; 9. PALS Patrick (EST, TM) +32.741; 10. KAIVERS Romain (BEL, Honda) +32.742
TEAMS QUALIFYING (TOP TEN): 1. France Pts. 2,000; 2. France Jr Pts. 5,000; 3. Italy Pts. 5,000; 4. Czech Republic Pts. 6,000; 5. Germany Pts. 10,000; 6. Austria Pts. 11,000; 7. Spain Jr Pts. 13,000; 8. Switzerland Pts. 15,000; 9. Spain Pts. 16,000; 10. Great Britain Pts. 19,000
Complete results available HERE.
SUPERMOTO OF NATIONS – QUICK FACTS
Circuit length: 2.085 mt
Temperature: 24 degrees Celsius
Weather conditions: Sunny
The Supermoto of Nations will be broadcasted delayed, by clicking HERE you will obtain the full tv list
In the photo: Team France
LINKS